Specific Cargo Container
Special box transportation
SPECIFIC CARGO CONTAINER
With the enhancement of China's manufacturing capabilities, a large number of equipment has been exported to many countries around the world in recent years. And due to the characteristics of the equipment itself, the size of the size or the weight of the weight is very common, this requires arranging special box transportation.
WorthCargo International has rich experience in the understanding of goods, the formulation of transportation solutions, the selection of transportation, the selection of transportation, equipment loading and unloading, and reinforcement. Specialized transportation talents have become the biggest guarantee for the smooth transportation of equipment.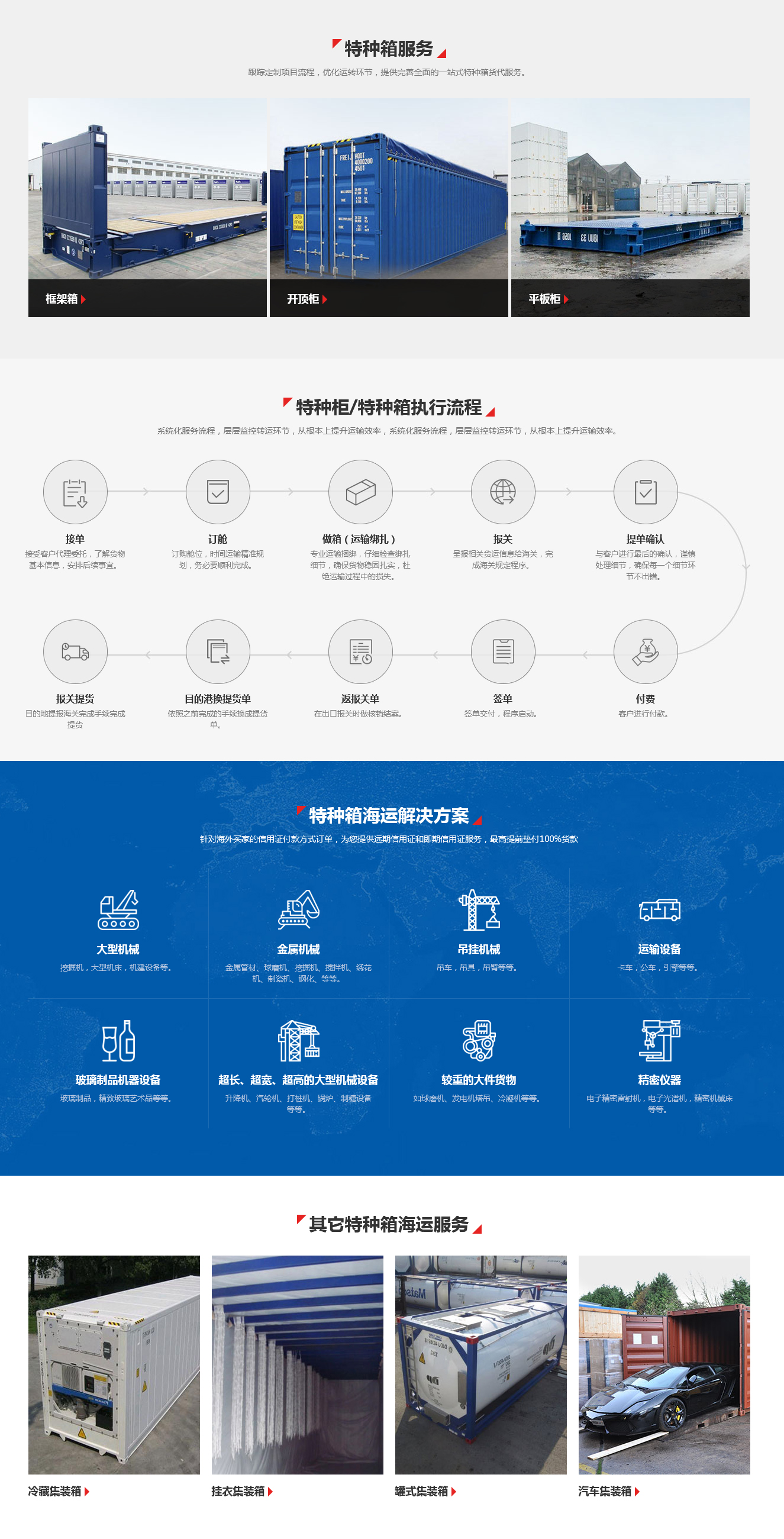 Precautions for opening box transportation
Open Top Container Shipping Reference
•The internal size of the box of the open container is the same as that of ordinary containers. Its use is mainly to deal with the high problems of some goods.
•On the other hand, the opening box is also to deal with the convenient loading and unloading of some overweight goods. The interior of the ordinary container can only allow 3 tons of forklift to enter and exit. For heavier goods, the loading and unloading from the top can ensure the safety of the goods and the box. Essence
•During the use process, it is necessary to note that the width of the cargo is transported. Although the width of the box is 2350mm, the width of the top part of the top box is only 2150mm. Therefore, it cannot be loaded and unloaded from the top for goods with a width of more than 2150mm.
•After the cargo is loaded and unloaded, it should be covered with the open -top box to avoid water and humidity. The 损 cloth often occurs. If the equipment is very afraid of water, pay attention to check. If you have damage, repair it in time.
Precautions for frame box transportation
Flat Rack Container Reference
•The frame container is mainly used for transportation overrun equipment. Pay attention to weight limit and size problems during use.
•The thickness of the 20'FR flooring is not much different from the ordinary container, but due to load -bearing reasons, 40'FR is about 600mm. Therefore, when shipping the goods, if the height of the cargo exceeds 1940mm, the loading plan and calculation costs should be considered according to the overplay of the goods.
•Usually 20'Fr weight is about 27 tons, 40'FR weight limit is 33 tons, and then weighing can only be transported by division.
•When the frame box is packed, the cushion and ligation of the goods must be made. It is necessary to make the cargo and the container connect firmly, and avoid cargo movement or other dangers during transportation.